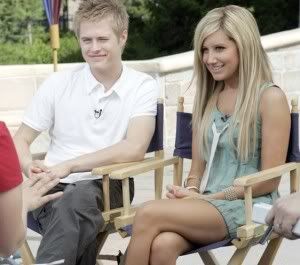 It sure has been sometime since we've had any sort of update on Ashley, I've heard some cast rumors but that's about it. So, here is the scuttlebutt from these past couple of weeks.
One of Ashleys' newer projects on the Disney Channel, Phineas and Ferb, has been a huge hit. If you think you might like to watch it, look for Candice, that's who Ashley is voicing for.
With regards Ashley's latest movie "They Came From Upstairs", Kevin Nealon and Everybody Loves Raymonds' Doris Roberts have been added to the cast, this should be a good one.
Well, it won't be long till' High School Musical 3 starts filming, Ali Lohan has been rumored as having an audition, she could play a spoiled student much like Ashley's character Sharpay.
Oh! Have you seen Ashley's ad for Marc Ecko? If not, you click on the link below there's a bunch of great photos and some behind the scenes footage from their photo shoot.
Lastly and probably the most ridiculous rumor out there was that Ashley was considering breast augmentation .. STOP .. it's not going to happen! So Star Magazine, shame on you!
Source
:
Ashley Tisdale and Marc Ecko