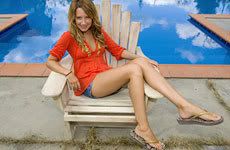 Thank you, thank you NZ Herald! Finally some details on our Ashley! As most of you know, Ashley has been in New Zealand filming the movie "They Came From Upstairs". From what I've read, they kept set locations pretty quiet.
Not to quiet enough though, Ashley was quoted in the Herald saying that there were, like, 20 guys around her age, standing on the side (during filming). When she came out and they were like, whistling and stuff. She said she really doesn't have that a lot.
She usually get the young kids but seeing, like, a bunch of guys waiting, she was like, 'Wow, that's awesome, she didn't know what to do. Should she go over and talk to them?
The Herald made mention of some her favorite hang outs, those included Waiheke Island, Takapuna beach and Mission Bay. Ashley is expected to be in New Zealand until mid-March.
Source
:
The New Zealand Herald
Heads up Ashley Fans!
Oh, one last piece of news, ashleymusic.com made mention
that Ashley has a new artist page on Facebook, here is the link if you are interested.
Ashley Tisdale Artist Page at Facebook