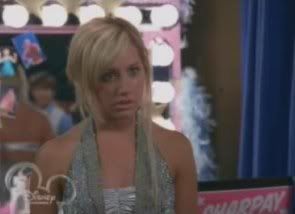 Earlier this evening, when I got home, I decided to put in High School Musical 2 and relax for a while. For some reason, it always makes me feel better. Anyways, there was this scene just towards the end of the movie where Troy agrees to sing with Sharpay.
(
after he had told her he wasn't going to because of the way she was treating his friends
).
In that scene, Ashley (Sharpay) had tears falling from her eyes. I know, crazy huh, but that was my favorite part of the entire movie. I just wanted to reach out and hug her. I really love Ashley as an actress, I'd definitely love to see her take on more dramatic roles.
High School Musical 2
:
YouTube Video the Sharpay tears scene